Bar­lok Occu­pied — Pales­ti­nian elec­tro­nics night (sou­tien à Gaza)
Same­di 8 sep­tembre à 21:00 — 04:00
Barlok
53 bis ave­nue du Port, 1000 Bruxelles
BARLOK STANDS WITH PALESTINE
******
As the bom­bard­ment of civi­lians and cultu­ral cen­ters conti­nues in Pales­tine, we are brin­ging you power­ful sto­ry-tel­ling Pales­ti­nian sounds. Five Pales­ti­nian elec­tro­nic musi­cians will share the podium for a night full of resis­tance, struggle and a mili­tant approach music.
******
FREE PALESTINE — NOBODY IS ILLEGAL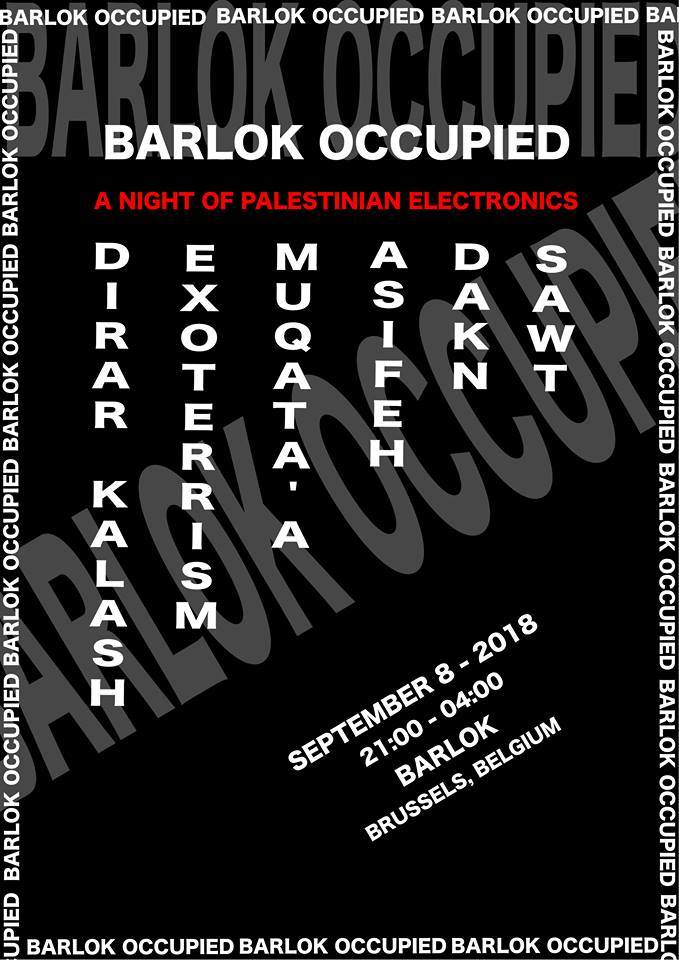 LINEUP :
Muqata'a

Dakn

Dirar Kalash
https://soundcloud.com/dirar-kalash
Sawt

Exoterrism

Asifeh

Warm Up + Bet­ween sets :
Bobevanjezu

Part­ners :
Radio Panik
Third­Ty­pe­Tapes (TTT)
Comi­té BDS-ULB
Asso­cia­tion Belgo-Palestinienne
Collectactif
We are still loo­king for part­ner­ship and spon­sors for the eve­ning, we have a small bud­get and any help is appre­cia­ted (even sym­bo­lic). Thank you for your support.