Call to action — Brus­sels NATO sum­mit 2018
du 11 juillet au 12 juillet
NATO
Bld Leo­pold III 1110, 1130 Bruxelles
En réponse à l'appel des mou­ve­ments de paix, et dans le res­pect du consen­sus d'action, nous invi­tons chacun.e à expri­mer son oppo­si­tion à ce som­met de l'OTAN qui a déjà le goût du sang, en orga­ni­sant des actions directes non-vio­lentes visant à blo­quer et / ou à per­tur­ber le som­met. Les cibles que nous vous pro­po­sons sont toutes soit en lien direct avec l'OTAN et son fonc­tion­ne­ment, soit liées à la tenue même du som­met.
Soyons créa­tifs-ves, radi­caux-ales, mul­tiples et soli­daires des luttes contre toute forme de domi­na­tion et d'injustice.
Les 11 et 12 juillet pro­chains, le som­met de l'OTAN se tien­dra à Bruxelles… ou pas !
La liste des cibles et les infos légales sont à télé­char­ger sur les liens ci-des­sous. Pour rece­voir des infos com­plé­men­taires, ou pour d'éventuels conseils quant au choix des cibles, écri­vez-nous à : nomorenato@agirpourlapaix.be
Ces deux docu­ments seront mis à jour si néces­saires.
http://agirpourlapaix.be/cibles/
sur fb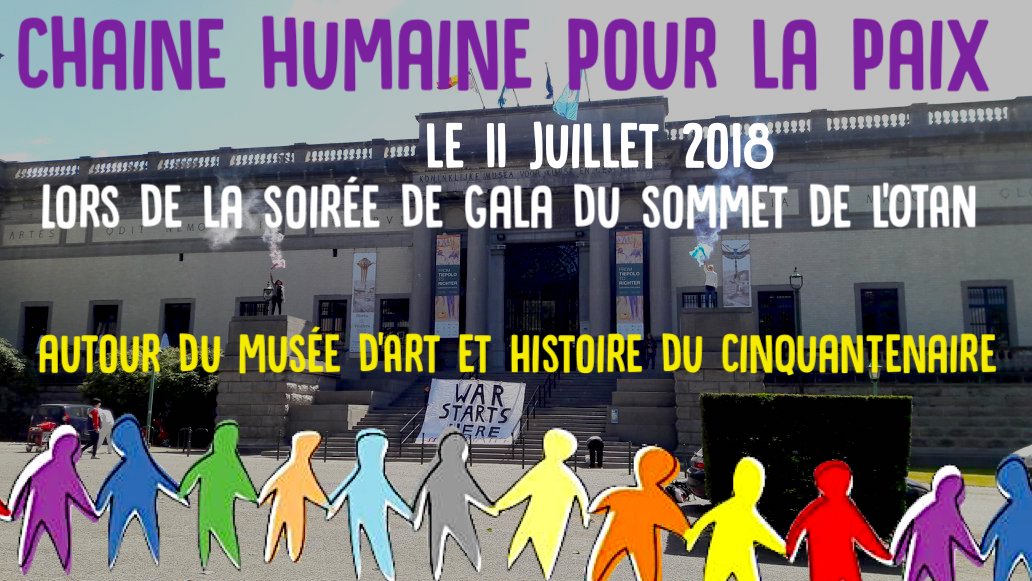 ---
In res­ponse to the call-out from peace move­ments, and within the Non­violent direct action fra­me­work, we invite eve­ryone to take action against the next NATO sum­mit which alrea­dy has the taste for blood, by orga­ni­sing non violent direct actions to blo­ckade or dis­rupt the sum­mit. The list of tar­gets we have sug­ges­ted all have a direct link with NATO and its func­tio­ning, and the very hol­ding of the sum­mit.
Let us be crea­tive, radi­cal, nume­rous and in soli­da­ri­ty with all struggles against oppres­sion and injus­tice.
On July 11th and 12th, the NATO sum­mit will be held in Brus­sels … or not !
The list of tar­gets and legal infor­ma­tion can be down­loa­ded from the links below. To receive fur­ther infor­ma­tion, or for advice on the choice of tar­gets, please write to : nomorenato@agirpourlapaix.be
Both docu­ments will be upda­ted if neces­sa­ry
---
Neder­lands :
Als ant­woord op de oproep van de vrede bewe­gin­gen, en in res­pect van de consen­sus van de actie, nodi­gen we iede­reen uit om zijn oppo­si­tie aan deze NAVO-top, die al een bloed smaak heeft, orga­ni­se­rend niet-gewel­da­dige directe acties gericht op het blok­ke­ren en/of aan het vers­to­ren van de top. De doe­len die we u voors­tel­len zijn alle­maal in en of directe ver­bon­den met de NAVO en zijn wer­king, of aan de hou­ding van deze top.
Laten we crea­tef, radi­caal, divers en soli­dair zijn in onze stri­jd tegen alle vor­men van ove­rheer­sing en onrecht­vaar­di­gheid
Op en 11 en 12 juli vindt de NAVO-top plaats in Brus­sel …of niet !
Voor meer info of sug­ges­ties rond actie­doe­len, stuur een mailtje naar :
nomorenato@agirpourlapaix.be (op voor­keur in het frans of in het engels)

http://agirpourlapaix.be/juridische-informatie/ of http://agirpourlapaix.be/legal-information/ (english)